Servings
4 persons,
Preparation time
15 minutes,
Cooking time:
70 minutes
Ingredients
2 red onions, peeled and thickly sliced
4 cloves of garlic, peeled and crushed whole
4 sprigs of fresh thyme, leaves picked
3 tablespoons olive oil
sea salt and freshly ground black pepper
2 courgettes, thickly sliced
1 red pepper, deseeded and sliced
1 yellow pepper, deseeded and sliced
12 black olives, stoned
4 plum tomatoes, thickly sliced
balsamic vinegar
1 small bunch of fresh basil, leaves picked
extra virgin olive oil
Directions
Put the red onion slices in a bowl with the garlic, thyme leaves, 1 tablespoon of olive oil and a pinch of salt and pepper, then toss to coat.
Make sure the stirrer attachment is in place in the HomeCooker pan, then set the temperature to 175°C. Once the pan has heated up, add the onion and garlic and set the timer for 10 minutes.
Add the aubergine, courgette, pepper and olives, then set the timer for 20 minutes. When the time's up, add the tomatoes to the pan with the remaining oil and set the timer for 35 minutes.
Turn the HomeCooker off, remove the pan and the stirrer attachment. Mix in a good drizzle of balsamic vinegar, tear in most of the basil leaves then season to taste. Spoon the ratatouille into a serving dish, scatter with the remaining basil and drizzle with a little extra virgin olive oil.

Chef's tip:

To make this a bit more hearty, I love to serve it with some crumbled goat's or feta cheese and a scattering of mixed, toasted seeds. Toast the seeds in the HomeCooker for a few minutes at 130°C before you get started.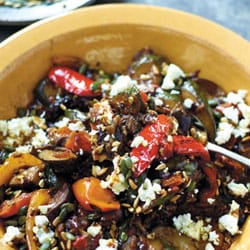 Our site can best be viewed with the latest version of Microsoft Edge, Google Chrome or Firefox.