Side dish – 3-4 portions
Servings
3 persons,
Preparation time
20 minutes,
Cooking time:
15 minutes
Ingredients
500 g large waxy potatoes
½ tablespoon (olive) oil
150 ml (Greek) yoghurt
2 tablespoons flat-leafed parsley, finely chopped
Freshly ground black pepper
Directions
Peel the potatoes and cut them (with a French fries cutter) into long, 8 mm thick strips.
Soak the fries in water for at least 30 minutes. Drain them thoroughly and then pat them dry with kitchen paper.
Preheat the AirFryer to 150°C. Carefully coat the potato strips in oil in a wide bowl and transfer them to the fryer basket.
Slide the basket into the AirFryer and set the timer to 5 minutes. Fry the fries until they are crisp tender and allow them to cool.
Now increase the AirFryer temperature to 180°C. Slide the basket with the fries into the AirFryer again and set the timer to 12-16 minutes. Fry the fries golden brown.
While the fries are frying, make the yoghurt dip. In a small bowl, mix the yoghurt with the parsley and the chives. Add salt and pepper to taste.
Allow the fries to drain in a colander lined with kitchen paper. Sprinkle with salt.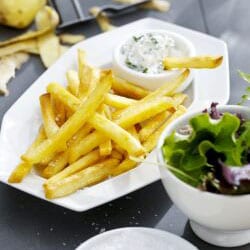 You are about to visit a Philips global content page
Continue
You are about to visit the Philips USA website.
I understand
Our site can best be viewed with the latest version of Microsoft Edge, Google Chrome or Firefox.