Servings
6 persons,
Preparation time
15 minutes,
Cooking time:
95 minutes
Ingredients
1 small handful of flaked almonds
3 tablespoons of vegetable oil
2 medium onions, peeled and finely sliced
1 fresh green chilli, deseeded and finely sliced
1 small piece of fresh ginger, peeled and finely chopped
1 small bunch of fresh coriander, leaves picked and stalks finely chopped
90g korma or other mild curry paste
800 grams of free-range skinless boneless chicken thighs, cut into 3cm chunks
1 x 400g tin chickpeas, drained
1 x 400ml tin low-fat coconut milk
2 tablespoons of desiccated coconut
200 grams of fresh baby spinach
sea salt and freshly ground black pepper
6 tablespoons fat-free natural yoghurt
1 lemon
For the rice: 300 grams of basmati rice
For the rice: 2 tablespoons of coarsely grated creamed coconut
Directions
Make sure the stirrer attachment is in place in the pan, then set the temperature to 175°C. Once the pan has heated up, add the almonds and set the timer for 8 minutes, to cook until lightly golden. Once done, tip into a bowl and put aside.
Add 2 tablespoons of vegetable oil, the onion, chilli, ginger, coriander stalks and korma paste to the pan and set the timer for 20 minutes, so the onions go soft and sticky.
Add the remaining oil and the chicken, and set the timer for a further 20 minutes, so the chicken turns golden. When the time's up, add the chickpeas, coconut milk, half the flaked almonds, the desiccated coconut and a splash of water. Bring to the boil then reduce the temperature to 110°C and set the timer for 40 minutes.
When there's about 10 minutes to go, cook the rice in a pan of boiling salted water according to packet instructions. Drain in a colander and leave to steam dry before scattering over the coconut.
Add the spinach to the curry and set the timer for a final 5 minutes, so it wilts. Turn the HomeCooker off and season the curry to taste. Serve scattered with the remaining almonds and coriander leaves, with a dollop of yoghurt and lemon wedges on the side for squeezing over, plus all your usual accompaniments such as poppadoms, chutneys and pickles.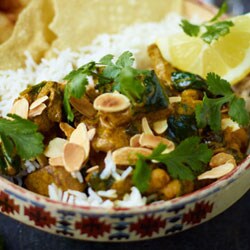 Our site can best be viewed with the latest version of Microsoft Edge, Google Chrome or Firefox.