Impress your friends
Servings
1 persons,
Preparation time
60 minutes
Ingredients
For the filling:
1 onion (average size)
1 garlic clove
500 g chicken breast, cooked and sautéed
3 tablespoons olive oil
2 tablespoons cornstarch
1 cup (240 ml) milk
For the dough:
200 g ricotta
150 g margarine
100 g cornstarch
200 g all-purpose flour
2 teaspoons salt
1 teaspoon baking soda
Directions
'Using the cutting knife and the food processor jug, chop the onion, garlic and the chicken one at a time.
In a saucepan, sauté the onion and garlic in oil. Add the chicken, salt and pepper to taste and stir well. Add the cornstarch by mixing it with the milk and stir until it thickens.
Remove from heat, add the butter and let it cool. Pour all the dough ingredients in the food processor bowl and using the cutting knife, mix until smooth.
Preheat the oven to 180°C. Lay the dough on a surface sprinkled with flour and roll it out into a sheet. Then carefully add the cooled chicken mixture and carefully roll up the sheet into a Brazilian roll (rocambole).
Brush with egg yolk and bake at a medium heat for approximately 40 minutes.
Serve immediately and garnish as you wish.
60 minutes total preparation time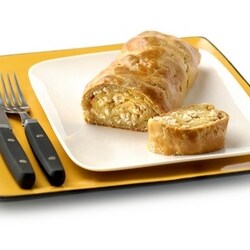 Our site can best be viewed with the latest version of Microsoft Edge, Google Chrome or Firefox.