Servings
6 persons,
Preparation time
5 minutes,
Cooking time:
35 minutes
Ingredients
120 gram pudding rice
2 tablespoons caster sugar
700 millilitre milk
200 millilitre double milk
1 whole nutmeg, for grating
1 vanilla pod, halved lengthways and seeds scraped out, pod reserved
½ a cinnamon stick
Directions
Make sure the stirrer attachment is in place in the pan, then set the temperature to 130°C.
Once the pan has heated up, add the rice, sugar, milk, cream, a few gratings of nutmeg, the vanilla seeds and pod, and the cinnamon stick. Bring it to the boil, then reduce the temperature to 110°C and set the timer for 30 minutes.
When the time's up, the rice pudding should be lovely and creamy. Switch off the HomeCooker, pick out and discard the vanilla pod and cinnamon stick, then divide the rice pudding between your bowls and serve.

Chef's tip:

Add a sweet topping to your rice pudding for an extra burst of flavour – try a scattering of fresh, seasonal berries, a dollop of your favourite jam, a sprinkling of ground cinnamon, scrapings of good-quality dark chocolate (70% cocoa solids), or stewed rhubarb in winter and grilled peaches in summer.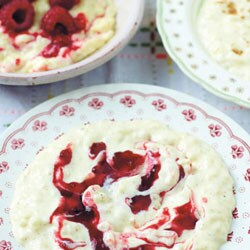 Our site can best be viewed with the latest version of Microsoft Edge, Google Chrome or Firefox.